RIHANNA DOESN'T CARE WHAT THE WORLD THINKS WHEN IT COMES TO HER LOVE LIFE
Rihanna is a ride or die when
it comes to Chris Brown. When the world turns their back on him, he can rest easy that this chick got his back 200%. And she's willing to risk everything for it.
She's covering the latest issue of Rolling Stone
Magazine
, which uses the caption "Crazy In Love" to describe her current relationship which has taken us for a
roller coaster ride
since 2009. Inside, she spends a good portion of the
interview
defending Chris from his critics and their current relationship. We learn that she doesn't want to be mistaken for being "weak", she believes he's at a place where he knows he can't f-ck up again when it comes to their relationship and it was easier to run back to him because he's really the only person she feels that understands her.
Catch a few
highlights
below:
On being mad at Chris and her decision to give the relationship another try
I wanted him to know what it felt like to lose me. To feel the consequences of that. But I got real with myself, and I just couldn't bury the way I felt.
I decided it was more important for me to be happy, and I wasn't going to let anybody's opinion get in the way of that. Even if it's a mistake, it's my mistake. After being tormented for so many years, being angry and dark, I'd rather just live my truth and take the backlash. I can handle it.
On not being able to talk to anyone about Chris, not even her best

friend


I just felt like, why bother? Nobody else is going through it. Nobody would understand.
On how they've grown to value each other more
When you add up the pieces from the outside, it's not the cutest puzzle in the world. You see us walking somewhere, driving somewhere, in the studio, in the club, and you think you know. But it's different now. We don't have those types of arguments anymore. We talk about (stuff). We value each other. We know exactly what we have now, and we don't want to lose that.
On what she loves about him
For a long time he was really angry, and he felt like he couldn't get away from it, no matter what he did. But there's so many reasons why I ever reconsidered having him in my life. He's not the monster everybody thinks. He's a good person. He has a fantastic heart. He's giving and loving. And he's fun to be around. That's what I love about him – he always makes me laugh. All I want to do is laugh, really – and I do that with him.
On if he's changed
Of course everybody has their opinion about him, because of what he's done. That will always be there. But he made a mistake, and he's paid his dues. He's paid so much. And I know that's not a place he would ever want to

go back

to. And sometimes people need support and encouragement, instead of ridicule and criticism and bashing.
On if she's trying to rehabilitate him
Wait. You think I'm here to rehabilitate Chris? No, no, no. That is not my purpose. Trust me. I could have done that from the jump if I thought that was my

job

. My job was to take care of myself – and I did. I wouldn't be here if I didn't think Chris was ready.
And trust me – it makes me feel great to know that people care. I guess it's just something that will show with time. There's nothing I could say that would convince you right now. But we're in a great place. And I can't ever see us going back.
On if he messes up again
Listen, I'll tell you right now: I don't have to take it. If he gives me that again, here's what I give him: nothing. I just walk away. He doesn't have that luxury of (expletive) up again. That's just not an option. I can't say that nothing else will go wrong. But I'm pretty solid in knowing that he's disgusted by that. And I wouldn't have gone this far if I ever thought that was a possibility."
On her love being a sign of weakness
I could never identify with that word, 'weak.' I couldn't have come out of this if I was weak. No way."
Rihanna just took us for a ride just now but you have to respect how candid, open and unapologetic she is. Hopefully it all works out for her and Chris.
In the new issue which hits news stands tomorrow, she also talks about the 777 Tour, wanting to have babies only if she can buy them and her new
album.
50 Cent's right-hand man Tony Yayo.

"You know what's crazy? It's like when we didn't have any money, things were better," the Talk of New York told MTV News last week when asked about the possibility of his group G-Unit reuniting.

50 Cent, Lloyd Banks and Yayo were the founding members of the group, which made their mark on rap's underground mixtape scene in the early 2000s as Fif's career was skyrocketing. At one time, the group boasted as many as five members with Young Buck and Game joining the clique. By the time the crew dropped their sophomore album T.O.S: Terminate on Sight in 2008, Game was long at odds with the group and Buck was on his way out. Lately however, it seems as if even the core trio can't get along, with a notable distance between Fif and Banks.
"When everybody got money, it's like things just went downhill, so it's like, I dunno, egos," Yayo said trying to give some sort of context to the rift. "I would love to see a G-Unit reunion. I would love to see me, Banks and 50 definitely onstage."
Having Game or Young Buck rejoin the fold however seems highly unlikely. "My problem with [Game] is that once he got to the point where he wanted to be, when he sold 5 million records, it was G-Unot," he said. "So it's like why would you want a reunion now if you want to be the guy to bring down the brand and the name."

All the dysfunction has Yayo frustrated with the hip-hop game. As a soloist he's released one major label debut and a slew of mixtapes, but lately he's just not feeling things like he used to. "When we were broke, and we didn't have a pot to piss in, we were all callin' each other's phones and that's the thing that just upsets me the most, and it makes me just want to say, 'F--- rap,' " he said candidly. "Loyalty is my biggest thing. 50 helped all of us eat. We all had mansions; we all had Bentleys; so if Fif is in a bad mood or feels a certain way that day, you just eat that. You learn to judge your friends for who they are."
ALICIA KEYS AT HER INTRODUCTION TO BLACKBERRY SHAREHOLDERS
Forget about a new operating system and a new corporate name—the big news out of
BlackBerry's (RIMM)
announcement today was that the Canadian tech firm has appointed Alicia Keys as its global creative director.
Keys joins a long and distinguished list of entertainers who have taken on creative-director duties at various companies.
Intel (INTC)
, wanting to get in on that
My Humps
action, hired Black Eyed Peas member will.i.am as its "director of creative innovation." Polaroid, when it wasn't being passed around from creditor to creditor in bankruptcy proceedings, announced in 2010 that it had appointed Lady Gaga as its creative director, based on her extensive work in industrial design and precision optics.
Not only is there precedent in music in general, this kind of strategic partnership has already happened in Keys's immediate family: Her husband, record producer Swizz Beatz, was named creative director of Lotus Cars in 2011. (Er, until Lotus's parent company, Malaysian carmaker Proton, was sold in 2012.)
No doubt BlackBerry will be using Keys in advertisements and appearances in the coming weeks and months. The phonemaker will want to be careful, though, with its product tie-ins: Some of Keys's biggest songs have such titles as
You Don't Know My Name
,
Troubles
,
Like You'll Never See Me Again
, and, her first big hit,
Fallin'
.
LIL WAYNE'S "I AM NOT A HUMAN BEING II" ALBUM COVER ART
Lil Wayne unveils the cover art for his new album
I Am Not a Human Being II
. A red insect resembling
a butterfly
appears against a black backdrop on the unconventional artwork, which was designed by DONDA, the creative content company founded by Kanye West.
Previously due February 19, the follow-up to 2011's
I Am Not a Human Being
will now arrive on March 26 featuring the Detail-assisted single "No Worries," plus contributions from Juicy J, David Banner, StreetRunner, Kane Beatz, and Cool & Dre.
While Kanye didn't produce on the album, he asked Wayne if he could design the artwork. "I'ma let 'Ye do what he do. As long as it ain't nothin' out the box crazy. 'Ye is 'Ye, he's a genius," Weezy previously told MTV.
DONDA also designed the artwork for Wayne's Mike WiLL Made It-produced single "Love Me" featuring Drake and Future. See it below.
HAYDIA PENDLETON
The 15-year-old majorette was shot in the back and later died at a Chicago hospital.
CHICAGO — A 15-year-old girl who had performed in President Barack Obama's inauguration festivities is the latest face on the ever-increasing homicide toll in the president's hometown, killed in a Chicago park as she talked with friends by a gunman who apparently was not even aiming at her.
Chicago police said Hadiya Pendleton was in a park about a mile from Obama's home in a South Side neighborhood Tuesday afternoon when a man opened fire on the group. Hadiya was shot in the back as she tried to escape.
The city's 42nd slaying is part of Chicago's bloodiest January in more than a decade, following on the heels of 2012, which ended with more than 500 homicides for the first time since 2008. It also comes at a time when Obama, spurred by the Connecticut elementary school massacre in December, is actively pushing for tougher gun laws.
Hadiya's father, Nathaniel Pendleton, spoke Wednesday at a Chicago police news conference, which was held in the same park where his daughter died.
"He took the light of my life," Pendleton said. He then spoke directly to the killer: "Look at yourself, just know that you took a bright person, an innocent person, a nonviolent person." Chicago Police Superintendent Garry McCarthy consoled him, the girl's mother and 10-year-old brother.
Hadiya was a bright kid who was killed just as she was "wondering about which lofty goal she wanted to achieve," her godfather, Damon Stewart, told The Associated Press. Hadiya had been a majorette with the King College Prep band.
"She was a very active kid, doing dance, cheerleading, who felt like she could accomplish just about anything, a very good student who had big dreams about what she wanted to be, a doctor, an attorney," said Stewart, a Chicago police officer and attorney. "She was constantly getting good grades."
CHICAGO MAYOR RAHM EMANUEL
White House press secretary Jay Carney said Wednesday that the president and the first lady's "thoughts and prayers are with" the teen's family, adding: "And as the president has said, we will never be able to eradicate every act of evil in this country, but if we can save any one child's life, we have an obligation to try when it comes to the scourge of gun violence.
In Chicago, gangs routinely and often indiscriminately open fire. Mayor Rahm Emanuel and McCarthy are pushing for tougher local, state and national gun laws and longer prison sentences for offenders.
About three blocks from Hadiya's school, she and a group of 10-12 young people, including members of her volleyball team, had taken refuge under a canopy at a park to avoid the rain Tuesday afternoon. A man climbed a fence behind the park, ran at the group and started shooting, and then jumped back over the fence and into a white Nissan. The group scattered, but Hadiya was shot once in the back and a teenage boy was shot in the leg.
Police said Hadiya had no arrest record and there was no indication she was a member of a gang or was the gunman's target. In fact, McCarthy said there are no indications that anyone in the group was gang-affiliated. He said the police suspect that the gunman may be a member of a gang that considers the park its turf and that he mistook somebody in the group as someone from an encroaching rival gang.
McCarthy vowed to put a police officer at the park "24 hours a day, seven days a week, 365 days a year" if that is what it takes to show the gang that the park belongs to no one but the community.
Comments by both Stewart and the girl's father echo the message that city officials have long said: Gun violence is not confined to street corners in dangerous neighborhoods. Obama's neighborhood, Kenwood, is just north of the University of Chicago and the Museum of Science and Industry.
"Her parents had done everything right and she was doing everything right," he said. Stewart, who was 12 when his own brother was shot and killed, said his family and Pendleton's family were so close that his own children saw the 15-year-old as an older sister.
"The worst thing in the world was when yesterday I had to sit there and tell my children that their sister is gone," he said.
ALLEN IVERSON
Allen Iverson has announced that he remains hopeful of getting one last shot at the NBA but says he's turning down the opportunity to launch his comeback in the NBA Development League.
Iverson, via his Twitter feed, said Tuesday that he's passing on an offer from the Dallas Mavericks' D-League affiliate, the Texas Legends, who are co-owned by Mavericks president of basketball operations Donnie Nelson.
Iverson tweeted: "I thank Donnie and Dallas for the consideration and while I think the D-League is a great opportunity, it is not the route for me."
Iverson added: "I realize my actions contributed to my early departure from the NBA, should God provide me another opportunity I will give it my all. ... My dream has always been to complete my legacy in the NBA.
"To my fans, I love yall! Not a day goes by that I am not asked when am I coming back, we all must accept that my return is not up to just me."
ESPN.com reported Monday that the Legends had ramped up their season-long pursuit of Iverson because they had moved to the front of the D-League's waiver line, meaning that they would have a clear path to signing Iverson if the 11-time All-Star could be convinced to put his name in the developmental league's player pool.
Iverson last played in the NBA in 2009-10 in brief stints with the Memphis Grizzlies and the Philadelphia 76ers, but the 37-year-old has resisted multiple overtures -- this season and last season -- from the Legends to use the D-League to get back on the NBA's radar. The Legends play 25 minutes north of the Mavericks' home in downtown Dallas.
Iverson has also rebuffed opportunities to sign lucrative deals in China because, to date, he's been unwilling to consider playing anywhere besides the NBA.
The Legends' pitch to Iverson centered around the fact that they've just convinced NBA veterans Delonte West and Rashad McCants to join their team with similar intentions and have a history of helping players make it back to the highest level.
The Legends signed another 37-year-old earlier this month -- point guard Mike James -- and wound up putting James in position to earn a 10-day call-up to the Mavericks that turned into a guaranteed contract after James completed his second 10-day deal Sunday.
The Legends, now in their third season, have employed 16 former NBA first-round picks since the team's inception and previously helped big men Sean Williams and Dan Gadzuric, swingman Chris Douglas-Roberts and veteran guard Antonio Daniels make it back to the NBA.
After James officially signed with the Mavericks on Monday for the rest of the season, D-League rules stipulate that the Legends returned to the top of the waiver process, which happens when a non-assigned player called up from the D-League spends 21 consecutive days with the NBA team that signed him. The Legends were also at the front of the waiver line last Friday to be able to claim West when the 29-year-old, who was released by the Mavericks in November, completed his D-League paperwork.
The Legends and their front-office team of Nelson, former NBA slam-dunk champion Spud Webb and Malcolm Farmer have made a habit of ambitious pursuits since the team's debut season in 2010-11.
Longtime NBA forward Eduardo Najera, in his first season as Legends coach, is the first Mexican-born coach of any team under the NBA's umbrella.
Najera succeeded former NBA Coach of the Year Del Harris. When Harris was hired by the Legends in 2011, he replaced Nancy Lieberman, who became the first female to coach an NBA-affiliated team when she took the job in the Legends' first season. Harris and Lieberman remain part of the Legends' front office.
Nelson also made a hard run at former Tennessee coach Bruce Pearl in the summer of 2011 to succeed Lieberman after Pearl received a show-cause penalty by the NCAA for three years, but Pearl opted to go into broadcasting despite an offer sources pegged at $500,000, roughly five times the annual norm for a D-League coach.
NEGOTIATIONS MAY BE IN THE WORKS BETWEEN JAY-Z & T.I.
T.I. is reportedly at the center of a label bidding war, after his contract with Atlantic Records recently expired. The Atlanta rapper maintains he'd like to stay on Atlantic where things are familiar, but if the money isn't right, he won't hesitate to leave.
"Hey look man I see all that sh*t," Tip said. "I respect my present partners at Atlantic records and had there ever been a separation between them and myself I would respect my new partners in such a way that I'm not gonna sensationalize anything. They give me my fair market value for what it is I have to offer. And if you want to be in business with me let's give each other 110 percent. But just going out and doing gossip type stories that ain't a huge part of what I do."
"Ay man, I'd love to stay where I am," added T.I. "It'd have to be shown that the feeling is mutual and the way you do that is on paper with commitment to dollars."
RICH DOLLAZ MUG SHOT FROM MEMPHIS
Love & Hip Hop" star
Rich Dollaz
insists that he was only arrested once on paternity and child support related charges. Clearing up rumors Tuesday, the talent manager also claims that paternity has not yet been determined.
"It's the same arrest, but now the video comes out, which makes it look like something different than it actually was," Dollaz shared with Hot 97 Tuesday.
As previously reported, Rich Dollaz was actually arrested while conducting an interview promoting the currently airing third season of "Love & Hip Hop" and other efforts. Claiming that the arrest was two weeks ago, he says a judge released him on his own recognizance and gave him a hearing date.
"I went back for the hearing. They give you a date. You can't be a deadbeat without having established paternity," Dollaz shared hitting back at allegations that he is a deadbeat father of a 12-year-old girl. "It just actually started coming up. I try to tread lightly with this topic because there is a kid involved."
While Dollaz is trying to be careful about what he says, he alleges that the mother, claiming that he is the father of her child, has been making calls to producers in an attempt to get on "Love & Hip Hop."
"If I had to assess this situation, it would absolutely have something to do with television, maybe wanting to be on television, calls to Mona Scott Young about wanting to be on television. All of that stuff," Dollaz says in video below. "If it's about the baby, then you file paternity. You get your money and you move on with life."
All of that said, Rich Dollaz will soon take a paternity test and if the child is his, he plans to step up and take care of the situation.
"I'll take care of it. There's nothing else to talk about," claims Rich Dollaz.
RICK ROSS HAS HIRED 24 HOUR SECURITY
Rapper
Rick Ross
has appointed around-the-c
lock armed security after a drive-by shooting took place after his birthday weekend.
While Rozay hires bodyguards at major appearances and live concerts, taking on 24-hour personnel seems to be the best precaution after an unidentified person drove up to his Rolls Royce and opened fire. The MMG leader then crashed into an apartment after losing control of the vehicle.
Insiders close to Ross tell TMZ that the incident was an "eye-opener" and he'll go to any lengths to keep himself out of harm's way.
CHRIS BROWN SEEN WALKING WITH CAST OVER HIS RIGHT HAND
Frank Ocean wasn't the only one injured in Sunday's scuffle at a West
Hollywood
recording studio
. On Tuesday, Chris Brown was seen leaving his house with a hard cast on his right hand covering his knuckles.
An eyewitness told TMZ that Chris threw the first punch after Frank refused to shake his hand. However, Chris insists that he did not make the first move.
Following the chaos, Chris reportedly fled the scene. Now the "Deuces" singer wants to speak with detectives and tell his side of the story.
Chris' lawyer, Mark Geragos, claims that the
surveillance video
shows that Chris did not throw a punch. But the video also clears Frank of any wrongdoing, only showing their crews fighting.
Frank cut his finger during the altercation. "got jumped by chris and a couple guys. lol," he tweeted. "cut my finger now I can't play w two hands at the grammys."
2 CHAINZ RECEIVES HIS GOLD PLAQUE FOR HIS DEBUT ALBUM "BASED ON A T.R.U. STORY
Yes, it's TRU. 2 Chainz' debut
Based on a T.R.U. Story
is now gold. The Atlanta rapper celebrated the milestone with his Def Jam family at a dinner in
New York
City last night.
"Hardwork paying off," tweeted 2 Chainz, who was presented with a plaque from Def Jam president Joie Manda.
He will attend the Grammys in L.A. on February 10, where he is nominated for Best Rap Album. He also recently shot his acting debut in the CBS sitcom "2 Broke Girls," airing February 11, and is in the lab
working
on his sophomore album.
A man who boarded a school bus Tuesday afternoon and fatally shot the driver, took a 6-year-old child and is still holed up in a homemade bunker with the child.
MIDLAND CITY, Ala. — Police teams swarmed a rural Alabama property Wednesday where a man accused of fatally shooting the driver of a school bus and fleeing with a 6-year-old passenger was thought to be hiding in a homemade bunker.
The man boarded the bus in Midland City, Alabama, on Tuesday afternoon and shot the driver when he refused to let the child off, Dale County Sheriff Wally Olsen told WBMA-TV. The driver later died. His identity wasn't released.
The shooter took the child, authorities said.
County coroner Woodrow Hilboldt told The Associated Press the standoff continued early Wednesday with tactical units, negotiators and other officers at the scene.

"That's what has been described to me as an underground bunker. Someplace to get out of the way of a tornado," Hilboldt said.
The coroner said the victim, who was in his mid-60s, died of multiple gunshot wounds. He wouldn't release a name until family had been notified.
Nearby residents were evacuated from their homes as a precaution, said Rachel David, a spokeswoman for the police department in the nearby town of Dothan.
"Authorities also confirmed the presence of a child at the scene but are giving no further information at this time," David said in a news release late Tuesday.
Claudia Davis, who lives on the road where the standoff was taking place, said Wednesday that she and her neighbors couldn't leave because the one road was blocked by police.

Davis, 54, said she has had run-ins with the suspect.
"Before this happened, I would see him at several places and he would just stare a hole through me," Davis said. "On Monday, I saw him at a laundromat and he seen me when I was getting in my truck, and he just started and stared and stared at me."
Michael Creel, who lives on the road where the shooting happened, said he went outside after his sister heard gunshots.
"Me and her started running down the road," Creel told the Dothan Eagle newspaper. "That's when I realized the bus had its siren going off. Kids were filing out, running down the hill toward the church."
Midland City police would not comment, and a dispatcher at the Dale City Sheriff's office said the agency was not releasing any immediate details.
CINDY PATRIARCHIAS (R) EDMOND GONZALES (L)
The girl has developmental disabilities, police said. She was placed under the care of New Mexico's child-protection agency.

ALBUQUERQUE, N.M. — A New Mexico woman and her boyfriend locked up an 8-year-old girl with developmental disabilities in a wooden cage, then left her alone while they went to watch a movie, police said Tuesday.
Cindy Patriarchias and Edmond Gonzales took her three children to an elementary school Friday to watch the movie, a police report said. Patriarchias' estranged husband called police when he arrived at the school and learned that the 8-year-old girl had been left unattended at the mobile home.
Police waited for an hour for Patriarchias and Gonzales to return before they could enter the home. Officers discovered a large, homemade wooden cage in the corner of a bedroom with the girl inside. The cage had two latches on the door, a baby crib's mattress inside and was about 2 1/2 feet wide and 4 feet tall, police said in a statement.
The girl didn't appear to have any physical injuries, police said. She was placed under the care of New Mexico's child-protection agency.
A police spokesman said Patriarchias had been trying to adopt the girl but hadn't been able to reach the girl's birth mother to get her consent. The girl suffers from microcephaly — a condition that gives people an abnormally small head.
Patriarchias, 33, has been charged with negligently causing child abuse. Gonzales, 37, was charged with negligently permitting child abuse. Court records indicated that they appeared in court Monday but didn't enter pleas.
Patriarchias and Gonzales were being held $25,000 cash-only bonds. It was unclear if they had hired attorneys.
1st

is most definitely not a stranger to this music scene. Born in Harlem New York, and then moved to Mashpee Massachusetts, to end up in Brooklyn, This female who refers to herself as the

"Pretty Girl"

has been making her mark in every state she steps her foot in. "Brooklyn molded, Born in Harlem, Boston Branded, Mashpee Mobbing" This right here is a good definition of this female MC, who has now made music her top priority. Often referred to as the 1st Lady of Team Arliss or 1st Lady, 1st has made her way through the underground music world with the her very well known ability to ride a beat gracefully,with a sexy melodic tone that has everyone buzzing. Forever known as the

1$t Lady

of Team ANW (The largest Myspace Street Team started in 2006) 1st has featured on

many underground hip hop artists tracks, and worked alongside producers such as

King Clive

, Amillion YSN, Vinny Idol, Apollo De Lorean and others. It most surely appears that this young lady has every intention on getting her name in the streets as she was just featured on

King Clive TV & Epic Team 6 the "Cypher of All Cyphers"

a production that is flooding the social media world where 1st made a killer performance alongside artists Uno, Mour Barz, Shooney The Rapper, Cory Flook, and Mike Dibiasi. Currently 1st is an artist under Side Block Entertainment and now working closely with King Clive, so

you can see 1st featured on many of The

King Clive TV

episodes and also features on mix tapes, radio shows, and showcases around NYC. Working on many projects including her own personal titled "Pretty Girls Only" 1st is surely "making her mark" so be on the lookout and keep your eyes open because this pretty girl better yet 1st is on her way to the top.
SEATTLE POLICE SERGEANT CONFISCATES MILITARY ROCKET LAUNCHER FROM GUN BUY BACK PROGRAM
The device was sold in a private exchange between two members of the public on Saturday. Now the police and the Army are looking into where the military item originated from.



SEATTLE — Seattle police worked with Army officials Monday to track down the history of a nonfunctional missile launcher that showed up at a weapons buyback program and determine whether it was legal or possibly stolen from the military.
A man standing outside the event Saturday bought the military weapon for $100 from another person there, according to Detective Mark Jamieson.
The single-use device is a launch tube assembly for a Stinger portable surface-to-air missile and already had been used. As a controlled military item, it is not available to civilians through any surplus or disposal program offered by the government, according to Jamieson.
Seattle police have contacted Army officials at Joint Base Lewis-McChord near Tacoma, deputy chief Nick Metz said Monday.
"Once it's brought on base and investigators have a chance to look at it, they'll see what they can determine," Army spokesman Joe Kubistek said Monday. "It's too early to give any information on it until we have hands-on access to see it and take a look at it."
Police witnessed the private exchange of the military launch tube near the gun buyback event, where gun buyers tempted those standing in long lines to turn in their weapons with cash.
"It was absolutely crazy what we saw out there," Seattle Mayor Mike McGinn said at a news conference Monday where officials announced they had collected a total of 716 weapons, including four confirmed as stolen.
Officers saw guns changing private hands without knowing whether the person buying the gun had the legal right to buy it, and those transactions are occurring all the time, McGinn said.
He added that the private sales of the missile launch tube and other weapons illustrate the need for comprehensive background checks as proposed by President Barack Obama, as well as other regulations at the state level.
While there were private gun buyers at the periphery of Saturday's event, Metz said a large majority of people chose to wait in line and get less money because they wanted to make sure they got the weapons off the streets.
"These are very dangerous weapons," Metz said. "They may not have looked very pretty, but (they're) definitely operable."
The firearms collected included 348 pistols, 364 rifles and three so-called street sweepers, or shotguns that include a high-capacity magazine capable of holding 12 12-gauge shotgun shells.
The program allowed people to anonymously turn in their weapons for a shopping gift card worth up to $200 — $100 for each handgun, rifle or shotgun turned in, and $200 for each gun classified as an assault weapon under state law. Officials distributed about $70,000 in gift cards at Saturday's event.
Police took possession of the launch tube Saturday. Police said the man who had purchased it agreed to accept a gift card as compensation if the launch tube is not returned to him, though the man indicated he wanted to keep it if he was legally able to do so.
McGinn said he wanted to plan another buyback event soon and urged more donations to the program.
Meanwhile, police said people who wanted to turn in guns could do so at any time outside a buyback program, though they wouldn't be compensated for it.
FORMER POLICE CAPTAIN DOUG PRADE DURING TRIAL
A former Ohio police captain who has spent nearly 15 years in prison in his ex-wife's killing was exonerated Tuesday by a judge who said that new DNA test results proved his innocence and that no reasonable jury would have found him guilty if that evidence had been available at trial.
Doug Prade should be set free because the new DNA results are "clear and convincing," said Summit County Court of Common Pleas Judge Judy Hunter in Akron.
Hunter could have ordered a new trial for the 66-year-old Prade, or found that the DNA results weren't strong enough and allowed his conviction and sentence of life in prison to stand.
Prosecutors can appeal the ruling. If her ruling is struck down, Hunter ordered that Prade be given a new trial.
Margo Prade, a 41-year-old Akron doctor, was found shot dead in her minivan outside her office on Nov. 26, 1997. There were no witnesses and no fingerprints, and no gun ever was found.
Prade, a 30-year veteran of the Akron police department, was convicted of aggravated murder, largely because of a bite mark found on Margo Prade's body that one expert for the prosecution testified at the 1998 trial matched Doug Prade.
The new DNA test found that male DNA found around the bite mark is not Doug Prade's.
The test — conducted for free by the private DNA Diagnostics Center in Fairfield, Ohio, at the request of the Cincinnati-based Ohio Innocence Project — wasn't widely available at the time of Prade's trial.
While Prade's attorneys said the new test proved Prade's innocence, prosecutors had argued that the male DNA could have gotten on Margo Prade's lab coat before or after she was killed. Further testing on other parts of the coat didn't turn up any male DNA.
Hunter ruled Tuesday that the remaining evidence in the case would not be enough to convict Prade of murder, saying that much of it was "tenuous at best," that the accuracy of two witnesses' testimony was questionable and testimony about the Prades' contentious divorce "is entirely circumstantial and insufficient by itself."
In an interview with the Associated Press in August, Prade said that he hoped the results would be enough to free him.
"For them to find what I had known all that time was no surprise to me," he said in a phone interview from a central Ohio prison. "I guess it was an epiphany to everyone else — 'Hey, this guy was telling the truth.'"
In the years following Prade's trial, bite-mark comparisons have come under fire as sham science. At least 11 prisoners convicted of rape or murder based largely on bite mark-comparisons were exonerated — eight of them with DNA evidence. At least five other men were proved innocent as they sat in prison awaiting trials.
Prade's attorneys and prosecutors squared off at a four-day hearing in October and renewed their arguments in lengthy court documents in December.
"Prade has provided 'clear and convincing' evidence of his innocence, as well as that, had the new DNA and other evidence been introduced at trial, there would have been reasonable doubt such that no reasonable jury would have convicted," Prade's attorneys wrote.
Prosecutor Sherri Walsh argued that nothing Prade has presented is clear or convincing and that "Prade is where the jury felt he belongs."
"To contend ... that not one reasonable fact-finder would find him guilty of aggravated murder is truly to enter the realm of the absurd," she wrote. "At most, there is conflicting, credible expert opinion. That is a draw. Consequently, the status quo must stand."
Walsh also emphasized circumstantial evidence in the case, saying that it was well-known the Prades were going through a contentious divorce, that Prade had tapped her phone hundreds of times a year before the killing and that he never signed a divorce decree, which would stopped him from collecting a $75,000 life insurance policy.
Prade's attorneys said their client used more than half the policy to pay of Margo Prade's own debts and still had more than a fourth of it when he was arrested. They also say a contentious divorce and the phone tapping don't prove anything.
Prade told the AP in August that spending more than 14 years in prison, mostly amid the general population, has been "hell on Earth."
"I mean, it's one thing if someone is guilty of something to be here, but to be not guilty and here is even worse," he said.
FORMER MICHIGAN SUPREME COURT JUSTICE DIANE HATHAWAY
Retired Michigan Supreme Court Justice Diane Hathaway pleaded guilty to felony bank fraud Tuesday and is expected to be sentenced on May 28.
Hathaway stood quietly at a podium in U.S District Court in Ann Arbor this morning, acknowledging she intentionally defrauded a federally-insured financial institution hen she short-sold her Grosse Pointe Park home.
According to an agreement negotiated with the U.S. District Attorney's Office, her punishment is limited to up to 18 months behind bars or could be as little as 4-10 months if a pre-sentence report determines there was no actual financial loss.
"Yes your honor, I agree," Hathaway said to Eastern District Court Judge John Corbett O'Meara.
Hathaway's only "no" response came when O'Meara asked her about using her position as a Michigan Supreme Court judge as part of the scheme.
"Did you use your status as a public employee in your attempt to defraud?" O'Meara asked her.
"No," she responded.
Also during the hearing, prosecutors acknowledged there is insufficient evidence to charge others who may have been involved in the scheme, and agreed to limit proceedings to Hathaway only.
Hathaway retired Jan. 21 amidst the scandal involving the short sale.
Hathaway was charged Jan. 18 with one count of bank fraud after investigators said she moved ownership of property in Florida to relatives so she could qualify for the short sale. Hathaway allegedly told financial institution ING Direct she could no longer afford the house payments on the Michigan home.
In a civil filing in November, the U.S. Justice Department accused Hathaway and her husband, attorney Michael Kingsley, of fraudulently concealing their net worth.
The short sale in Michigan allowed the couple to erase nearly $600,000 in mortgage debt on the $1.5-million Grosse Pointe Park home on Lakeview Court, which eventually sold for $850,000. The debt-free Windermere, Fla., home then went back into their names.
Hathaway left the bench after announcing the decision to retire Jan. 7 after the Judicial Tenure Commission filed a complaint and sought her immediate suspension. The commission alleged she committed "blatant and brazen" misconduct violations in connection with private real estate transactions.
Republican Gov. Rick Snyder has yet to name her replacement.
Last year, a woman by the name of Jessica Smith brought suit against Future, saying he fathered a child with her in 2001 and has never paid child support, nor claimed the child. In what COULD have turned out to be a case of a thirsty chick looking for a payday now that Future's career is booming, it turns out…he really IS the father. A DNA test confirmed that the now 10-year-old boy is definitely his. Find out how much he'll have to pay in child support…and how much he's earning right now…below!
Future's currently pulling in a cool $16,516.30 a MONTH! Must be nice! As for the deal he struck with Jessica, he's agreed to be legally recognized as the father, will pay $1,662 in child support a month and pay for the cost of the DNA test, which was $889.
It's been almost a year now since Whitney Houston's tragic passing, but her memory will live on forever. Her brother recently sat down with their mother Cissy Houston for an interview on Oprah's Next Chapter, and revealed that HE was the one that cut Whitney hooked on the drug that ultimately led to her downfall. So sad. Though his guilt is overwhelming, he explains, "You gotta understand at the time, the 80s, it was acceptable."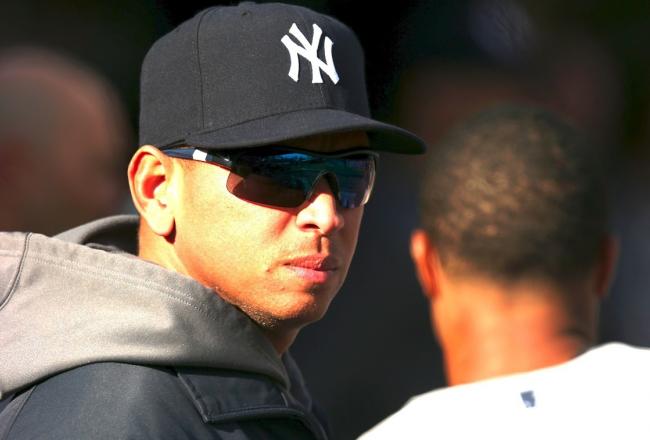 An explosive report in the Miami New Times on Tuesday asserts that Alex Rodriguez purchased illegal performance-enhancing drugs from an anti-aging clinic in South Florida over the prior four years.
The newspaper obtained records from Biogenesis
, a clinic that has closed and was owned by Anthony Bosch, the son of a prominent Florida physician who was linked with slugger Manny Ramirez when baseball suspended Ramirez for illegal PED usage in 2009. According to the newspaper, the records repeatedly mention A-Rod, as well as many other well-known baseball players. A-Rod, of course, confessed in 2009 to using illegal PEDs while with Texas from 2001 through 2003 and has repeatedly said that he hasn't used anything since.
MLB released a statement Tuesday in light of the report and said they are in the "midst of an active investigation."
"We have the best and most stringent drug testing policy in professional sports, we continue to work with our doctors and trainers to learn what they are seeing day-to-day and we educate our players about the game's unbending zero-tolerance approach," the statement read.
"We remain fully committed to following all leads and seeking the appropriate outcomes for all those who use, purchase and are involved in the distribution of banned substances, which have no place in our game. We are in the midst of an active investigation and are gathering and reviewing information. We will refrain from further comment until this process is complete."
The Yankees will not act upon this information until Major League Baseball vets it, according to an industry source, and that figures to take a while.
"We fully support the Commissioner's Joint Drug Prevention and Treatment Program," the team said in a statement. "This matter is now in the hands of the Commissioner's Office. We will have no further comment until that investigation has concluded."
This could lead to A-Rod getting suspended by baseball if this evidence is able to be obtained and authenticated, but that's quite a few steps away.
And what is this information? According to the clinic's records obtained by the newspaper, A-Rod -- identified in the records as "Alex Rodriguez," "Alex Rod" or "Cacique," the name of a pre-Columbian Caribbean chief -- paid $3,500 in 2009 for what is identified as "1.5/1.5 HGH (sports perf.) creams test., glut., MIC, supplement, sports perf. Diet."
Both human growth hormone and testosterone cream are banned by baseball.
Another record links "Cacique" to IGF-1, a banned substance in baseball that stimulates insulin production and muscle growth.
A-Rod's infamous cousin Yuri Sucart, who was purported to be A-Rod's drug mule from 2001 to 2003, is also identified on the records, having paid Bosch $500 for a week long supply of HGH in 2009.
Another page from a notebook labeled "2012" features this wording: "He is paid through April 30th. He will owe May 1 $4,000... I need to see him between April 13-19, deliver troches, pink cream, and... May meds. Has three weeks of Sub-Q (as of April)."
Elsewhere in his notebooks, the newspaper reports, Bosch writes that "Sub-Q" refers to his mixture of HGH, IGF-1, and other drugs.
Other baseball players identified in the clinic's records are former Yankees Melky Cabrera and Bartolo Colon, both of whom were suspended from baseball last year; Washington pitcher Gio Gonzalez and Texas outfielder Nelson Cruz.